Talk about having curb appeal. From a colorful history to one-of-a-kind interiors and immaculate grounds spanning 3.7acres, this property has it all.
The iconic Hearst Mansion, which has featured in The Godfather, The Bodyguard, and more recently in Beyoncé's movie Black is King, has hit the market for $89.75 million.
The sprawling 18-bedroom estate, which is also where John and Jackie Kennedy spent their honeymoon, is located in Los Angeles' affluent Beverly Hills neighborhood just three blocks from Sunset Boulevard.
The Beverly House, as it was originally known, was built for banking tycoon Milton Getz in 1927 by Gordon Kaufmann, the same architect behind projects including the Hoover Dam and the Hollywood Palladium.
But the name changed after Getz sold it to newspaper mogul William Randolph Hearst in 1946 for $120,000. Hearst lived at the property until his death in 1951 with his mistress, Hollywood actress Marion Davies.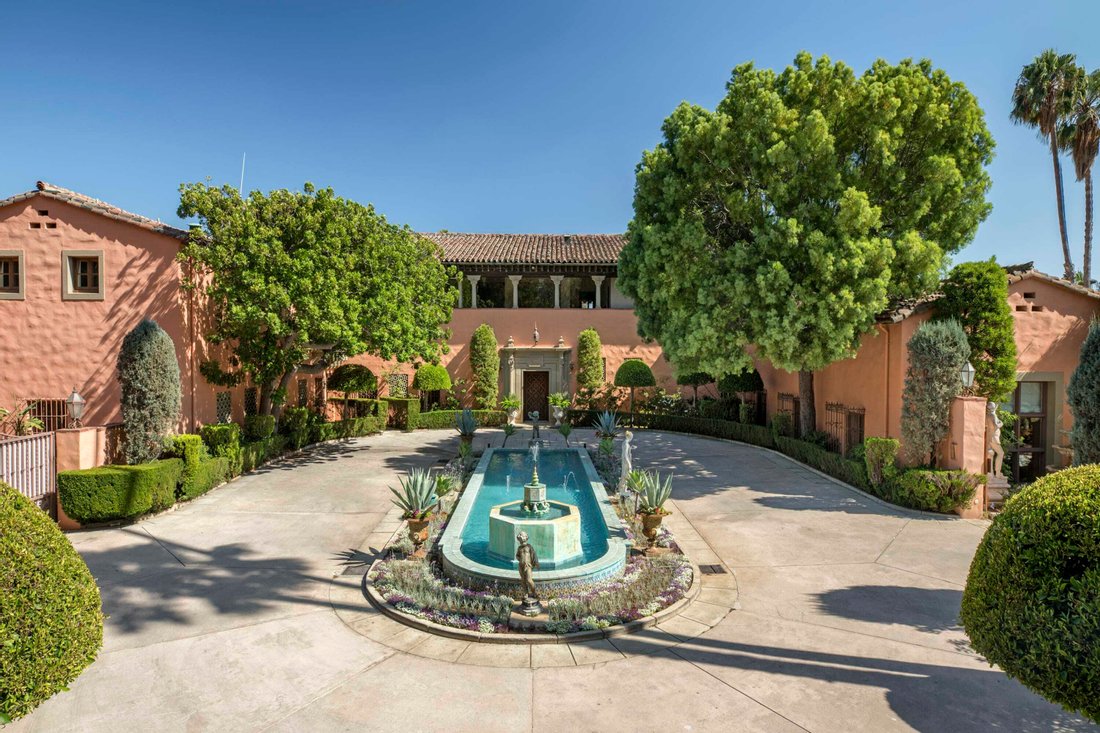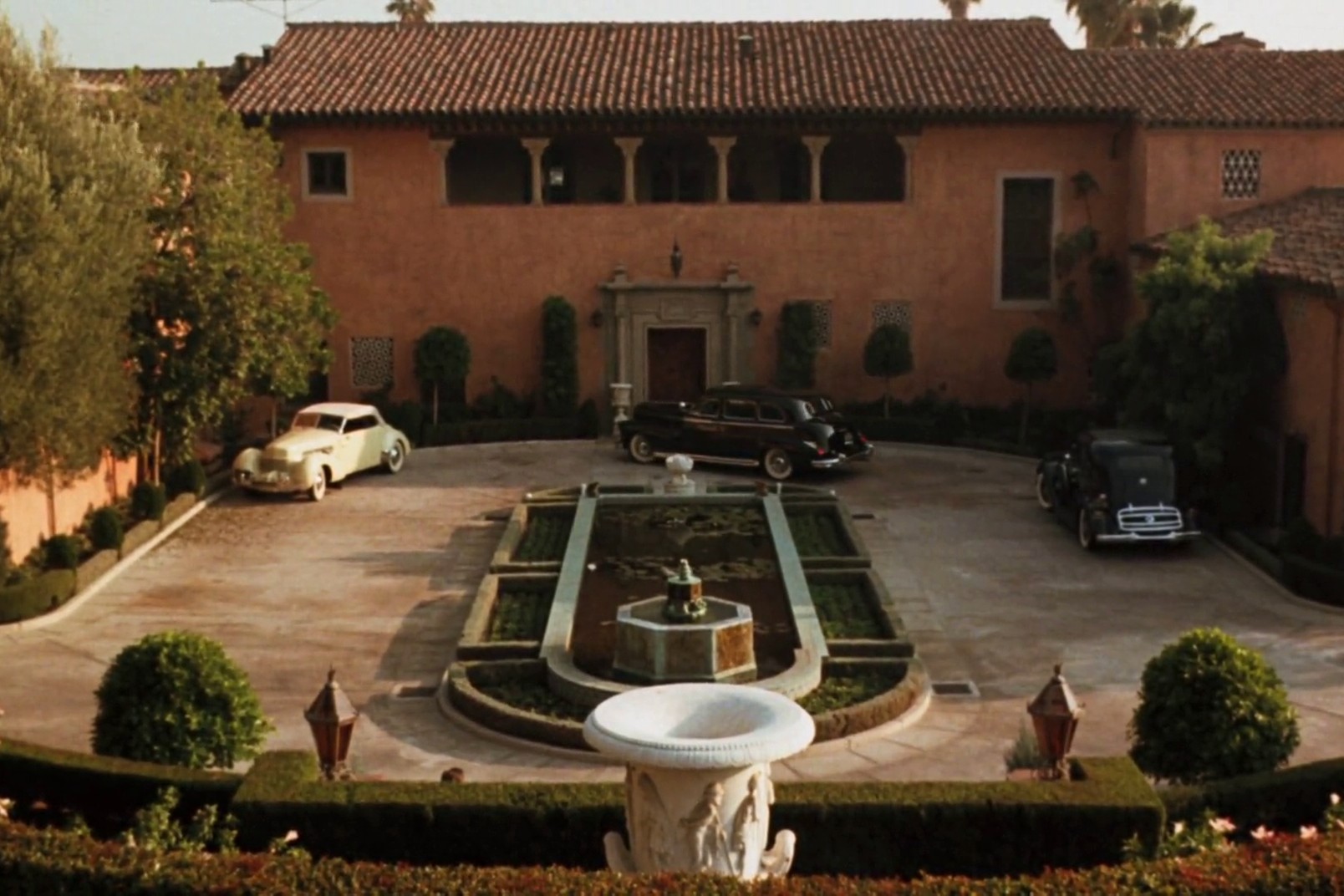 The Hearst Estate today and in 1972 serving as "The Godfather" movie set.
Has 'everything you can think of'
Jeff Hyland from Hilton & Hyland, a high-profile agency handling the listing, says of the Mediterranean-style home: 'Everything you can think of it's got it.'
From the outset this property, which seamlessly blends Spanish and Italian palatial influences, impresses with one of the city's longest private driveways running for 725 feet.
Within the grounds, an H-shaped structure crafted from terracotta stucco takes center stage. Stepping into the home, a 102-foot-long tiled hall decorated with a tasteful mix of modern art and antiques, offers a taste of what's to come.
The entertaining spaces hold court, with one being a jewel box of a lounge complete with a 22-foot-high arched ceiling and the other being a billiards room, decked out with herringbone parquet flooring, an intricately carved ceiling, and a grand stone fireplace sourced from another of Hearst's trophy homes, Hearst Castle in San Simeon, California.
But the crowning jewel of the ground floor is a wood-paneled library-cum-den. A staircase in the salubrious space leads to a wraparound balcony with more hand-carved bookshelves lining the walls.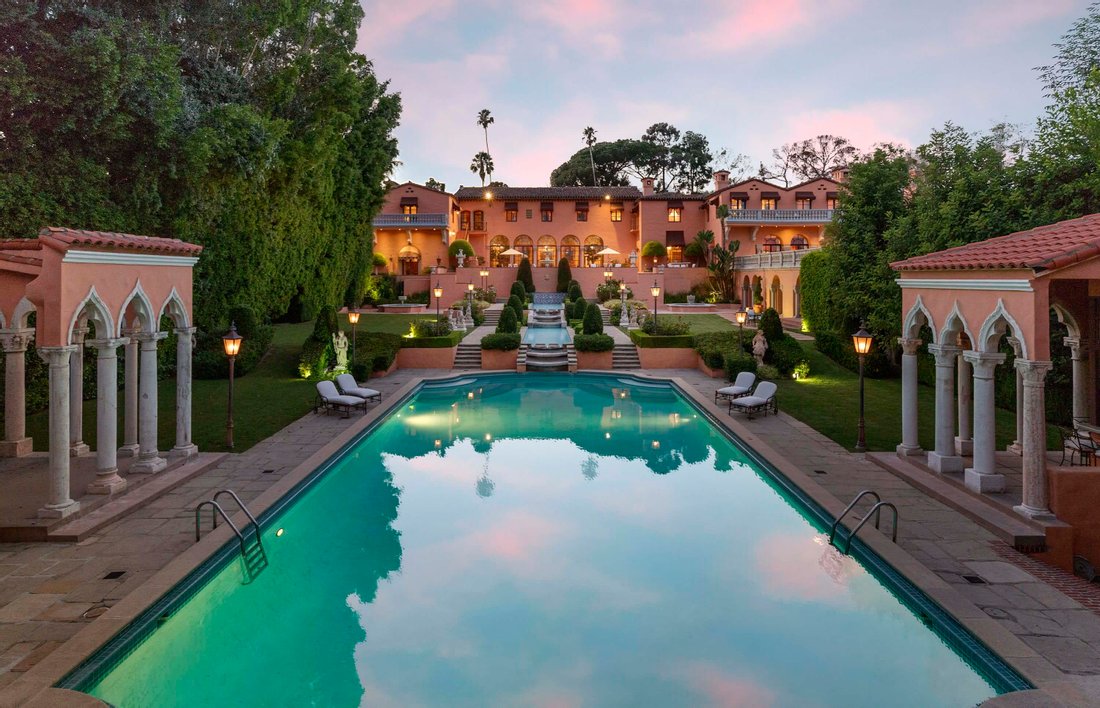 The mansion crafted from terracotta stucco faces the set of cascading pools.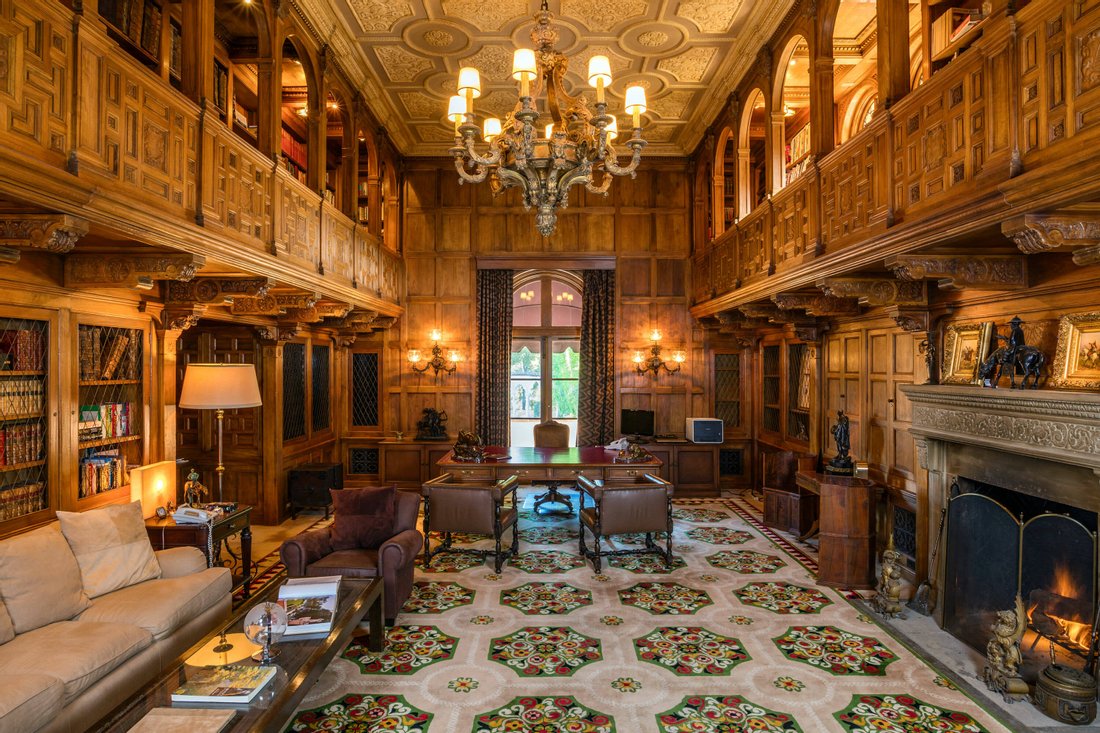 The crowning jewel of the property is a wood-paneled library-cum-den with hand-carved bookshelves lining the walls, and a wraparound balcony.
Other spaces on the main level include a formal dining room, a breakfast room, and a family room with an outdoor terrace that can seat up to 400 guests.
Moving downstairs, the entertainment offering is fit for the Hollywood set, with an exquisite Art Deco-style nightclub, a wine cellar, and screening rooms to skip between. The lower level is also home to a state-of-the-art spa area with treatment rooms and a gym.
On the accommodation front, there are double master suites, four guest suites, and four individual staff quarters on the second story.
Away from the main house, there are standalone staff accommodations, a guest house above an eight-car garage, and a four-bedroom gatehouse.
The grounds also accommodate sun-soaked terraces, multiple water features, a floodlit tennis court, an indoor bar, a media center and a near Olympic-sized swimming pool.
More than half of its 2016 price
Hearst Mansion has hit the market multiple times and its current owner, lawyer and real estate investor Leonard Ross, is keen for a final sale after filing for bankruptcy.
Ross purchased the estate in 1976 for a reported $2 million and went about adding 20,000 square feet and bullet-proof windows during a renovation process.
But after running into some financial difficulty, Ross first offered up Hearst Mansion in 2007 with an ambitious $165 million price tag.
No sale followed and in 2010 it was relisted for $95 million with the same lack of success. In 2013, Ross explored the rental market with Heart Mansion let at $600,000 a month, making it one of the most expensive rentals in the country at the time.
In 2016, the property hit the market again, but at $195 million, no buyers stepped forward. Its price was cut to $135 million in 2018 before being cut further in the March of this year to $119 million and again this month to its current price.
A neighborhood fit for the ultra-rich
The price is fair for the upscale 90210 Beverly Hills neighborhood — and especially the most prestigious Beverly Drive Flats enclave — with its famous zip code commanding some of the highest prices in the world of real estate.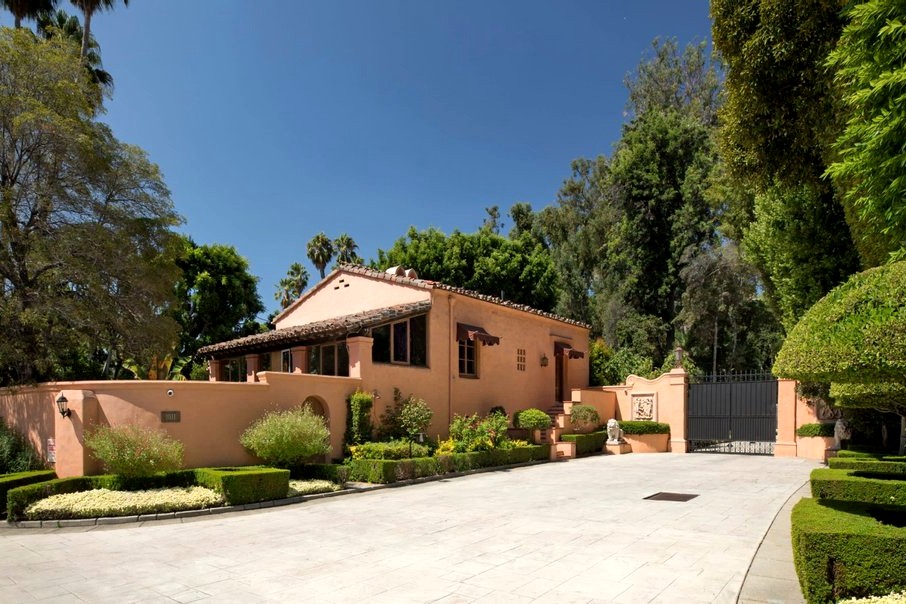 The Hearst estate: 1011 N Beverly Dr, Beverly Hills, California, USA.
View Listing
On JamesEdition, the median property price in Beverly Hills Flats is about $20 million, which is higher than any other neighborhood in the U.S. Along with the Hearst Mansion, other sought-after properties currently listed on JamesEdition include the contemporary styled Villa Lulu at $115 million or a landmark mansion on famed North Rexford Drivelisted for $32.5 million.
Properties in the affluent district offer privacy and seclusion. Hilton & Hyland notes that 'long, winding driveways, state-of-the-art security systems, and the mature landscaping block out tourists and paparazzi'.
Beverly Hills' central location in Los Angeles is another lure, with top-rated restaurants and world-class shopping on the doorstep. The beaches and mountains are also easily accessible and LAX is just a 20-minute drive away.