It's an incredible property boasting a secluded location and a charming Shingle Style frame, but following the tragic death of his late wife Kelly Preston, John Travolta has decided to put his Maine mansion on the market for $5 million.
The actor purchased the expansive 20-bedroom property, which sits on a 48-acre plot on the shores of Islesboro island, with Preston shortly after their wedding in 1991.
The couple always dreamed of having a large house to entertain family and friends and after tying the knot and falling pregnant with their first child, they found what they were looking for in an exclusive community on the Maine coast.
Travolta was familiar with the Islesboro area after visiting actress Kirstie Alley. She wanted friends to move to the area and actually took Travolta to the first viewing of his future home.
The Grease star told Architectural Digest during a 1999 interview: 'The moment we drove up under that wonderful natural tunnel of trees covering the driveway, I said, 'This is it.''
Travolta's first-class hotel vision
Built in 1903 by architects Peabody and Stearns for the heir of a prominent banking family, the Maine property flaunts the traditional Shingle style which was employed around that time by many prominent American architects including Frank Lloyd Wright.
Exterior features include smart wood cladding, asymmetrical façades, characterful timber trims, and multiple chimney stacks.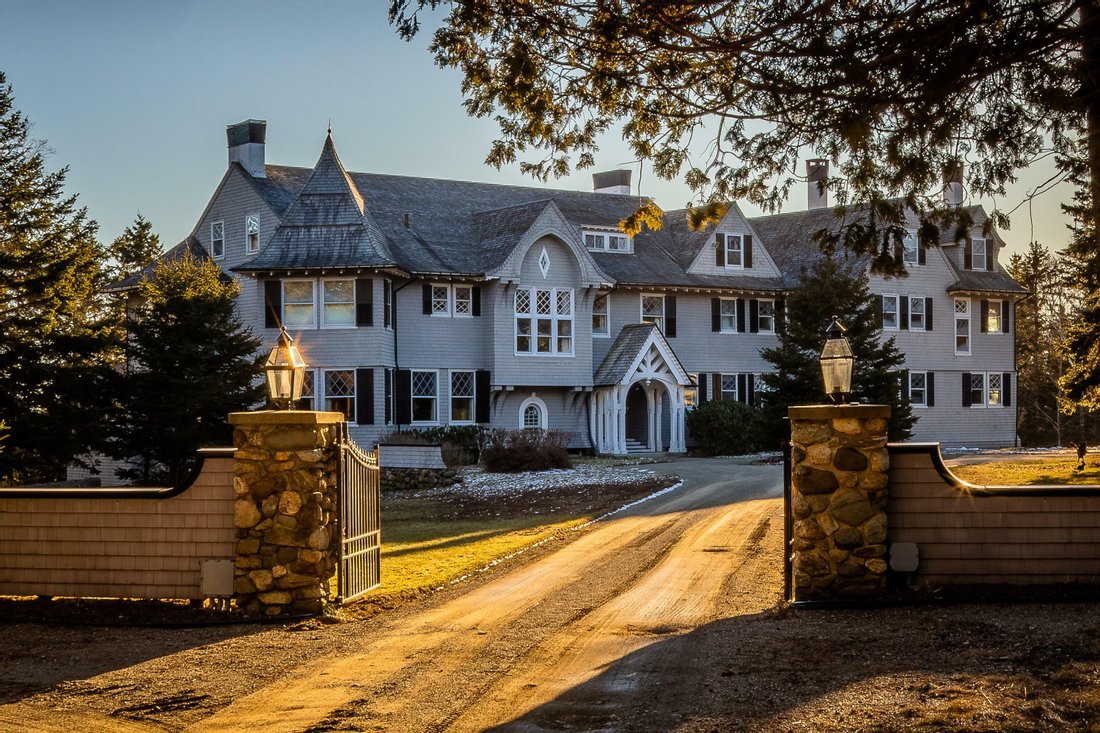 Built in 1903 by architects Peabody and Stearns for the heir of a prominent banking family, the property flaunts the traditional Shingle style.
On the interiors front, a classical English theme runs throughout with a mix of the original antique furnishings still in place, from stone fireplaces to gilded chandeliers.
Travolta and Preston kept the cozy and traditional feel of the place but added their own touches here and there.
Travolta said he took inspiration from the 'first-class hotels' he stayed at during his career when it came to fashioning spaces. The five-star Gstaad Palace in Switzerland was mentioned as one of the spots on his design ideas board.
Some of the first things the newlyweds did after purchasing the home, was to install a 'hotel-size furnace' and redo the kitchen.
They also converted the attic and transformed it into a 'children's fantasyland', which the Architectural Digest piece notes came complete with 'a stage, schoolroom, playroom and a series of thematic bedrooms: the Princess Room, the Airplane Room, the Peter Pan Room'.
While they went about decorating their new abode, Travolta and Preston 'camped out' in a small farmhouse on the property.
They completed the renovations in around two months, in time to welcome 50 of their relatives over for a successful first Christmas together.
Further design touches were completed by esteemed interior designer Christopher Boshears.
Perfect for large groups or single-family living
Today, the New England home retains its charm and it makes for a perfect place for accommodating large groups of visitors but it is also cozy enough for single-family living.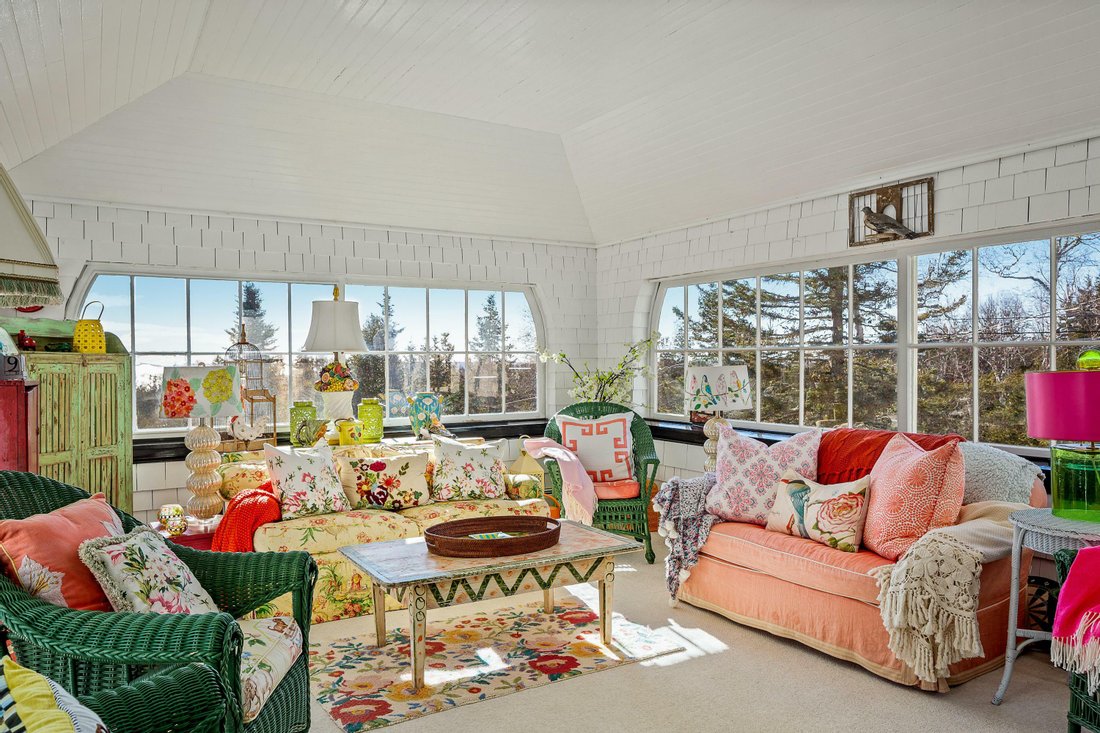 On the interiors front, a classical English theme runs throughout with a mix of the original antique furnishings.
On the ground floor, there are some fantastic entertaining spaces, including a spacious living room, a dining room, a custom-built bar area, and a fully-equipped kitchen complete with a walk-in refrigerator and pantry area.
Moving to the second floor, there is a master suite with its own private balcony, and a full bathroom with a claw foot tub and separate shower.
There are an additional 14 bedrooms along with four full bathrooms. The entire third floor of the home houses the aforementioned children's 'fantasyland'.
From top to bottom, numerous windows allow for ample natural light, and a spread of bright colors, from citrus yellows to lipstick pinks, add to the sunny feeling.
Around the grounds of the property, highlights include generous swathes of lawn, two large sun-drenched verandas, a back-deck area, a large swimming pool, a detached barn for car storage, and a deep-water dock on Sabbathday Harbor.
In July 2019, Travolta shared a photograph of his family enjoying dinner at the Maine property, showing how the island retreat remained one of his top spots to enjoy time with loved ones.
A vibrant island community
When it comes to location, the Travolta estate at 299 Drexel Lane is set privately at the north end of Islesboro island, which is three miles off the coast of Lincolnville in the Penobscot Bay.
The affluent 14-mile-long outcrop is home to many elegant properties of all shapes and sizes – once described by Travolta as 'blue-blood homes' – and there are around 600 all-year residents.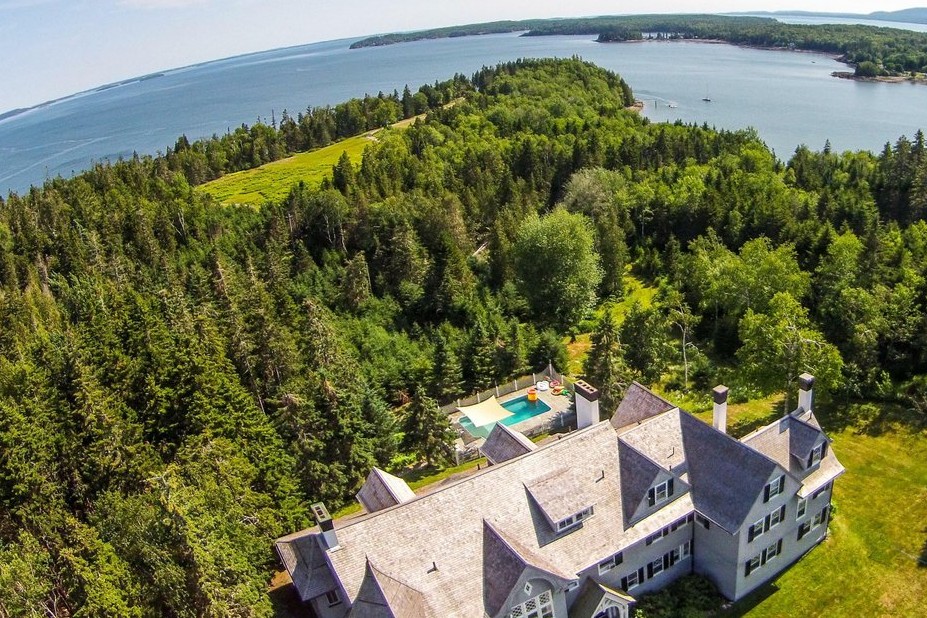 The mansion is set privately at the north end of Islesboro island.
Amenities in the neighborhood include a state-of-the-art community center complete with a workout facility, cafe, and cultural arts programming for all.
There is also a health center, a newly renovated K-12 school, a preschool, and a variety of stores and businesses.
In terms of accessibility, there is a ferry service running from Lincolnville Beach, with up to 18 services making the 20-minute crossing a day, or private boat services or air taxis are available.
On JamesEdition, there are currently seven properties in the Isleboro district available for sale, with prices running from $2.5 million to $5 million.
Along with Travolta's home, other standout offerings include a historic waterfront cottage ($3,850,000) and a grand six-bedroom mansion with vaulted ceilings and multiple fireplaces ($4,495,0000).