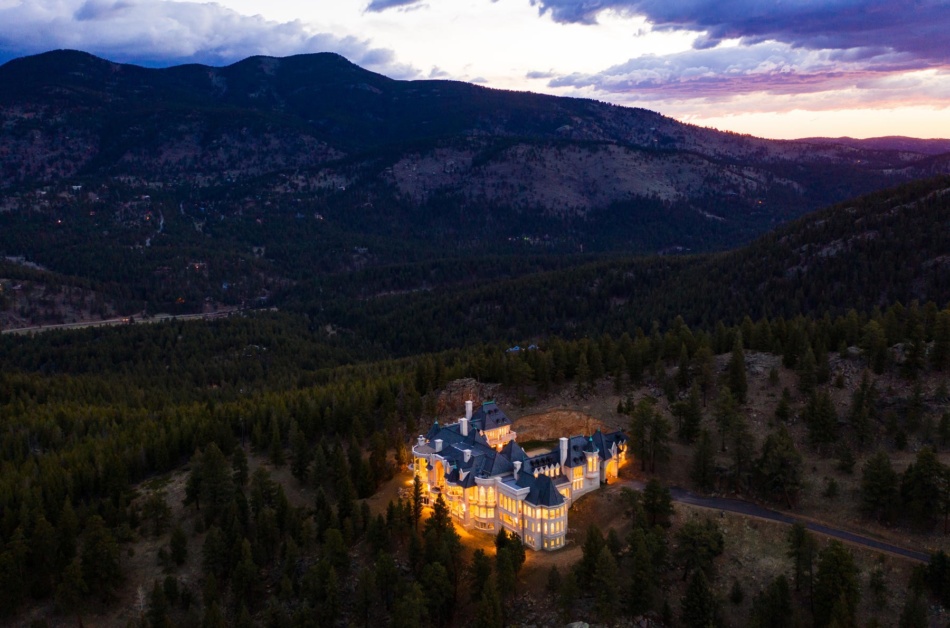 As 2020 draws to a close, we are beginning to compile statistics of what's happened during the year on JamesEdition. And one of our favorite things to do is to go through the listings that James' users loved the most during the year. In the real estate category, those listings are the most impressive mansions that house hunters managed to find among the more than 100,000 homes for sale. To sum up the year, we created a list of the most sought-after estates, according to James' users.
Keep reading to see the best English-style mansion in the world, the biggest mansion in Malibu, and the coolest contemporary masterpiece in the French Riviera.
—–
*Methodology (how we measured a listing's popularity). Some of the listings were on the market for several months and, hence, had an earlier start time for accruing visitors. That being the case, we decided to compare the average number of monthly visitors for each listing.
10. Royal-style mansion, approx. $254,877,470
Haifa District, Israel
One of the surprises that the end of 2020 brought us was that a house from Israel put up online in October quickly became one of the most popular listings on JamesEdition. It's the first time for this destination to share a top ten position with anticipated leaders from California, the French Riviera, and Costa del Sol.
The 4-bedroom, 7-bathroom mansion truly lives up to its name, from its palace-style exterior to Baroque interiors ornate with natural marble and onyx mosaics, monumental columns and 14-carat gold moldings. Two fountains with golden sculptures and a luxurious indoor pool give it a certain Late-Roman-Empire vibe.
9. Mansion Chateau V: the world's best homage to a historic landmark, $12,500,000
Evergreen, Colorado, USA
A marvelous castle in the woods boasting a breathtaking panorama of the snow capped Mount Evans Wilderness. Designed by Boulder's BVZ Architects, the mansion was inspired by the historic Biltmore Estate in Asheville. The four-story house made of Texas limestone mirrors the Biltmore landmark with its central courtyard, dormered windows, pitched roofs, turrets, lit colonnade of columns, and sculptural ornamentation.
The property's interiors are certainly worth seeing, from its immense glass wall in the great room–full of mountain vistas–to a custom fireplace or arch system patented by Spanish architect Rafael Guastavino in 1892.
8. Modern mansion near Marbella, approx. $11,881,228
Benahavis, Andalusia, Spain
This is Marbella's first upscale property designed and built under Passive House regulations and standards. Energy efficiency is the cornerstone of the Passive House concept; it guarantees more than a 75% saving on energy costs while keeping the house warm in winter/cool in summer and providing fresh air throughout the house. And this villa masterfully combines sustainability with sheer, unadulterated luxury.
The property is located in higher altitudes, five minutes from the coast and ten minutes from Marbella, within an exclusive gated community. The villa's open space design benefits from the breathtaking vistas and provides probably the best views in the neighborhood from its great room and the pool. The interior combines contemporary style and modern artworks with a hint of eco-chic.
7. Hidden Island Road: a powerful location in New Zealand, approx. $12,984,041
Jacks Point, Otago, New Zealand
Another surprising destination on our top list is New Zealand. Set within the exclusive Jack's Point Preserve, this powerful setting offers the all day sun coupled with spectacular lake and mountain views.
Designed by award-winning architects, Mason and Wales, and recently completed by preeminent local builder Triple Star, this modern mansion offers the best of the best in design, construction, and engineering.
The architecture provides a direct response both to the topography of the landscape and to the incredible elevated vistas. To achieve this effect, the mansion consists of two distinct buildings linked by a translucent entry gallery. While strong in form, the house melds quietly into the landscape, providing an unbeatable outlook and privacy.
6. Contemporary villa with "infinity" open space interior, approx. $77,509,396
Palma de Mallorca, Spain
Son Vida is a prestigious residential area west of Palma set in an elevated position with panoramic views over mountains, countryside, and the Bay of Palma. The location is renowned for its golf courses, world-famous hotels, and architect-designed villas. Let's take a closer look at one of the best examples of these villas.
The facade of the villa is designed as a dynamic representation of boat sails floating above the ground floor. The building stretches along the length of the site to create maximum frontage, exploit the wonderful views, and create unique, "infinity" open space interiors. Transparent glass walls on the ground floor extend the huge living room into the garden, doubling the living space in the summer. The terrace provides an impression of limitless spacing, surrounded by natural landscape.
South-facing with complete privacy, the interior is also full of light. Unforgettable sunsets come as a bonus.
5. Avenue Road: the world's best English-style mansion, approx.$99,959,749
St John's Wood, London, the UK
Set on a spacious, tree-lined avenue in St. John's Wood lies one of London's most exceptional private residences, positioned behind a secure, gated, landscaped front.
This house has been meticulously designed and built in a contemporary style yet provides a country lifestyle in the heart of London. It is located just over two and a half miles north of Mayfair and borders the Royal Parks of Regent's Park and Primrose Hill.
The property itself is a perfect example of a high-class, English-style mansion. Upon entering the house, you find a grandeur double-height entrance hall flooded with an abundance of light. At heart of the house, the grand hall features a beautiful stone staircase and a striking floor-to-ceiling chandelier. Other features include a spacious indoor pool, luxury home bar/ movie theater, a landscaped garden, and a sunken courtyard.
4. Regal estate compound in Bel Air, $49,900,000
Los Angeles, California, USA
This mansion is located in the legendary area of East Gate Bel Air, or Old Bel Air. Throughout its history, this neighborhood has hosted several dozen notable residents, ranging from Elvis Presley and Alfred Hitchcock to Elizbeth Taylor and Salma Hayek. The district's landscape is mostly formed by impressively large estates developed before World War II. And our mansion easily aligns with these competitive surroundings.
The residence boasts both sophistication and Old-Hollywood-style opulence. Concealed behind private gates, a visitor will find a guarded, gated compound where every comfort and luxury has been accounted for, and no expense has been spared. The property looks like a resort oasis, providing the perfect environment for exceedingly gracious living. Its vaulted entry, high windows, and sweeping staircase serve to increase the degree of grandeur.
3. Mar De Amor: one of the coolest oceanfront mansions in the world, $115,000,000
Malibu, California, USA
This modern 12-bedroom, 14-bathroom, glass-walled property located on approximately 2.6 oceanfront acres (1 Ha) is one of the most spectacular properties in Malibu and is one of the world's biggest mansions available for sale today.
The powerful two-story entry features a dramatic 18-foot (2.4-meter) crystal chandelier, centered in a sweeping, circular stairway. White walls and Bianco Carolina white marble floors make a perfect backdrop for this stunning glass-and-crystal composition. Seemingly endless floor-to-ceiling windows open to an infinity pool, the ocean, the coastline, a landscaped garden, and island vistas.
The mansion's top-of-the-line amenities include a theater with Dolby Sound, a masterfully equipped chef's kitchen with a nano glass island, and a modern, 8-car garage.
2. An architectural masterpiece in the French Riviera, $107,616,111
Théoule-sur-Mer, Provence-Alpes-Côte d'Azur, France
This house looks as if it flew right off the pages of Architectural Digest–and for good reason. The ultra-modern estate reportedly was created by one of the world's leading architects Jean Nouvel and features four separate villas in four design themes (e.g., "The Water and Light Reflection" and "Lights and Inside Garden") built around an amazing, oval swimming pool with a 240-degree sea view.
Enjoying an exclusive prime location on the top of a hill, the property is literally meters from another iconic Riviera masterpiece: Pierre Cardin's Bubble Palace located slightly down the hill.
Another strong suit of the property is its majestic, landscaped park designed by Jean Mus.
1. Authentic Italian Village: the biggest mansion in the world for sale, $165,000,000
Beverly Hills, California, USA
This 20-bedroom, 23-bathroom property encompasses the largest assemblage in Beverly Park and is one of the finest estates ever offered in Beverly Hills.
Spanning more than seven acres (2.8 Ha) and accessed via its own street, this one-of-a-kind estate took over seven years to create. Expansive gates open to a 30-car courtyard surrounded by tall Canary Island palms and a setting worthy of an authentic Italian palazzo.
Inside the mansion, approximately 20,000 square feet (1858 square meters) afford every possible amenity from high ceilings to large and formal gathering areas to small and intimate spaces. A four-acre (1.6 Ha) backyard offers views of the pool with pool house, the tennis court, and a jogging trail. An additional separate lot offers possibilities for expansion or for a separate development.