Self-isolation aboard a private boat — whether a 454-foot superyacht or a 40-foot catamaran — is becoming a part of a new reality. In April, a self-isolated billionaire sent his first (pretty high-profile) tweet from one of the world's most expensive superyachtssomewhere near Grenadines. During the summer, brokers promoted yacht charters as the "safest version of self-isolated vacations." With the year drawing to an end without any clear vaccination solutions, we decided to present a revised list of our luxury "houses on the water": vessels most suitable for isolated yet comfortable and classy living.
Keep reading for a look inside the world's biggest superyachts, stylish sailing boats, and catamarans with five-star amenities.
1. Illusion Plus: the world's most expensive superyacht listed for sale in 2020
290 ft.
$145,000,000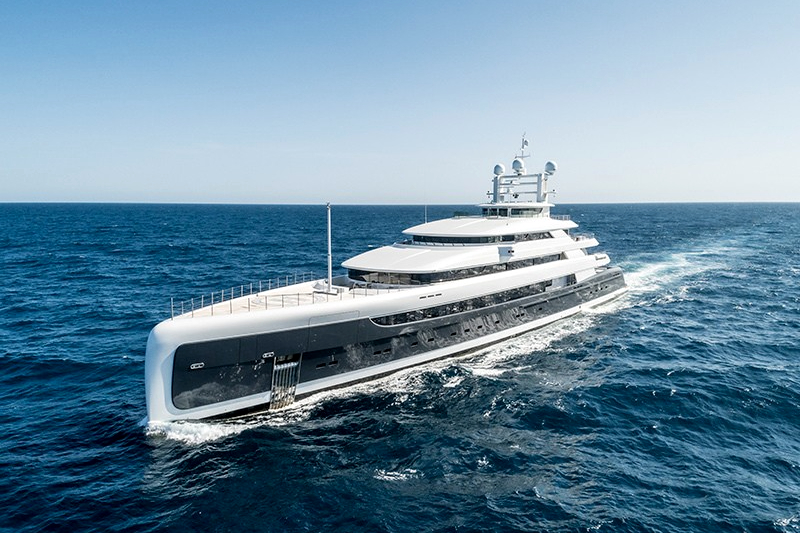 A custom 290 ft. (88.5 m), six-deck superyacht designed by Rainsford Saunders and built by Pride Mega Yachts in 2016. The yacht interior was created by the renowned Dutch studio Sinot Yacht Design. The main deck salon boasts a double-height atrium, elegant wood decoration, and a comfortable lounge area with a cinema screen. Four of the yacht's six decks are connected with an elevator. The boat can host up to 22 guests with its 860 sq. ft. (80 sq. m) master suite (situated on its own deck), two VIPs, and a number of double staterooms. Several cabins for the owner's staff also are available (for those who choose to self-isolate with tutors for their children or who may desire a personal chef).
Another magical thing about the boat is her perfect combination of performance and comfort. The yacht offers long-range cruising capabilities of 5,000 nautical miles at 15 knots. An innovative vertical bow and an abundance of interior volume measuring in at 3,642 gross tons, coupled with her unique propulsion system make her a truly unique giga yacht. Pride worked closely with Rolls-Royce to create a diesel-electric system with Azipull thruster pods. As a result, the boat is ultra-efficient and quiet, without compromising on speed.
2. Yersin: one of the world's most advanced explorers with a pool and spa salon
251 ft.
Approx. $92,865,586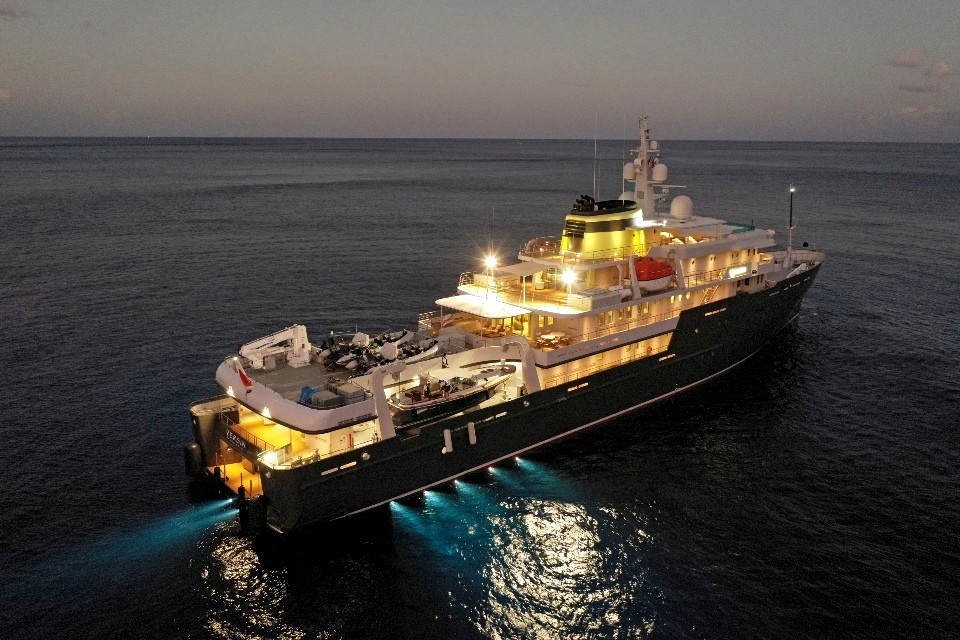 Yersin is a 251 ft. (76.6 m) custom explorer built at Piriou shipyard in 2015. This ice-classed vessel with polar coded equipment may widen the number the destinations for sea isolation. At the same time, the yacht is created to face challenging expeditions while ensuring the utmost comfort and style. It features a spa zone and a gym as well as a few sitting-and-chatting areas including a bar, a library, a Japanese-style lounge area, a modern master salon, a combination dining salon and screening room, and one of the decks functions as a lounge zone with a pool and a barbecue.
Of equal importance, Yersin is one of the most sustainable explorers of its generation; the yacht is engineered to the highest standards, resulting in a very low environmental impact with minimal consumption.
3. Formosa by Benetti: superyacht with Italian-style interiors
197 ft.
Approx. $40,884,220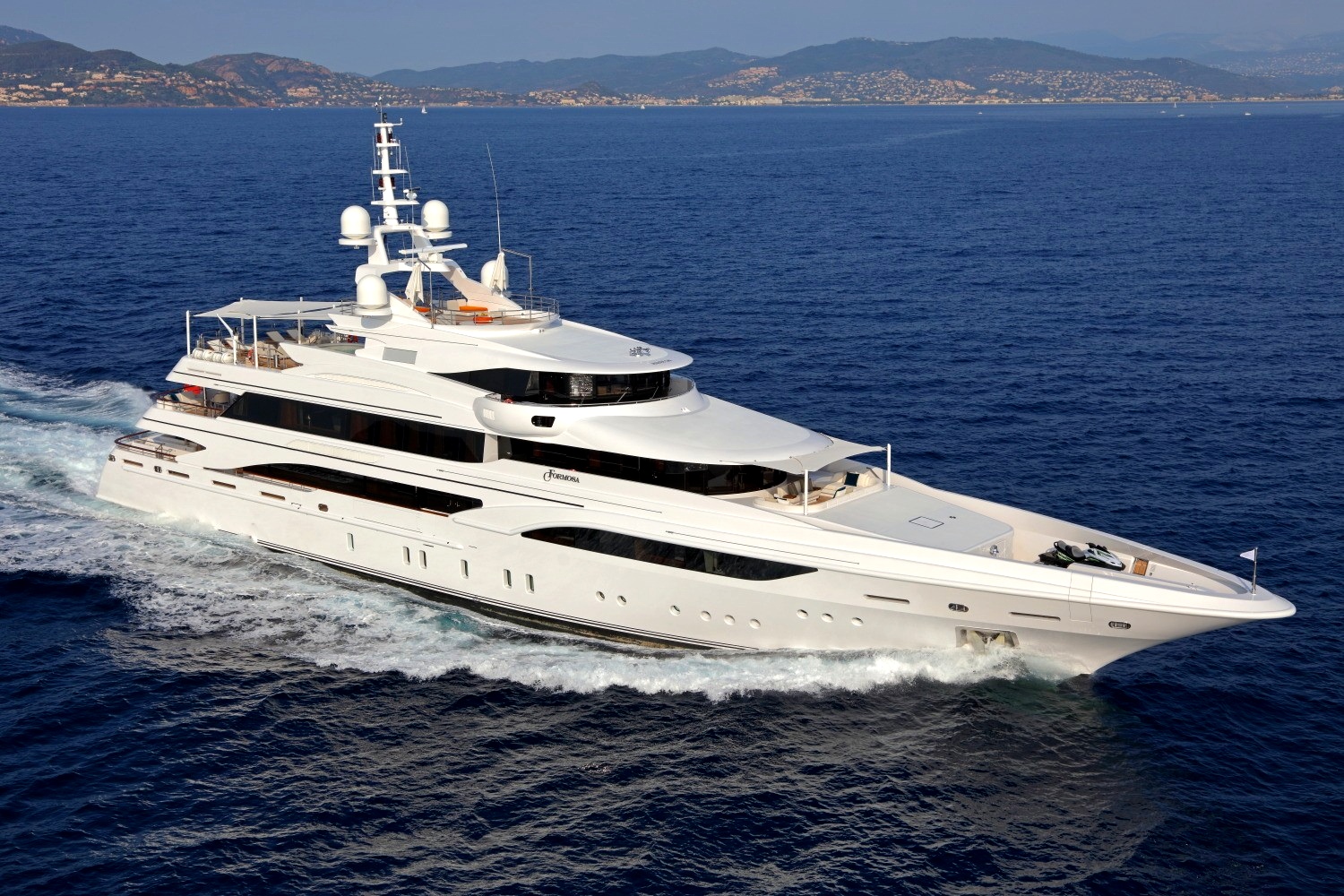 A yacht built in 2015 which has undergone improvements and a survey at the Monaco Marine. It returned to the water in June 2020. It's the second yacht on our list with interiors by Sinot Yacht Architecture and Design. The space carries an Italian-style elegance with many dark polished wood and marble elements, modern lightning, and rounded furniture lines. The boat features a private owner's deck, two VIP suites (conveniently positioned on the main deck), two double guest suites, and one twin cabin: all connected by an elevator.
4. Dynamiq GTT 165: Bottega Veneta interiors and ultimate enjoyment in sea
164 ft.
Approx. $28,910,984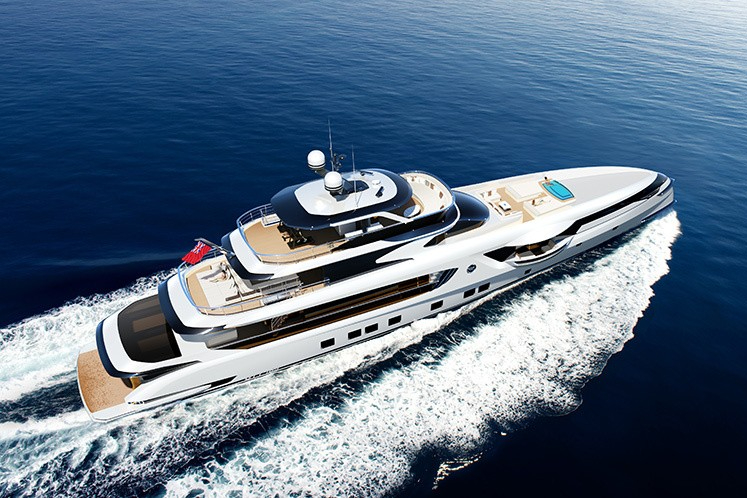 The GTT 165 is probably the most Instagrammable yacht in our selection. It features Maldivian-inspired interior design with a selection of furnishings and accessories from Bottega Veneta. The upper deck is designed as a spacious indoor-outdoor lounge and dining area with air and light flowing through the large, sliding doors. The aft boasts features a 360-degree view gym and the lower deck offers a five-star spa area with direct access to the water.
And the yacht's performance is no less impressive than its design. Engineered in the Netherlands by the experts at Van Oossanen Naval Architects, the GTT 165 has a vigorous, fast-displacement hull built from an aluminum alloy, making her an ultra-efficient, ocean-going yacht with a range of 4,000 nm.
5. Sovereign by Newcastle Shipyard: an extraordinary yacht built by a yachtsman
180 ft.
Approx. $23,950,000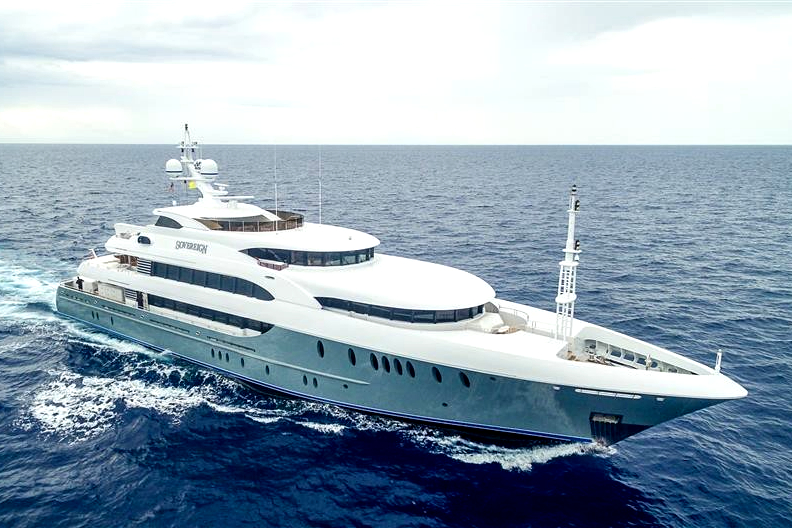 This boat was manufactured by Newcastle Shipyard to rival the quality and capability of Northern European pedigree yards. The project was conceived by an experienced yachtsman who made sure the build included every facet necessary to exceed expectations. He provided the finest supervision in terms of the vessel's engineering and design. Time to build completion was of no concern; quality was the number one priority. The yacht's second and present owner has been the perfect custodian, offering Sovereign state-of-the-art upgrades, annual maintenance, and class surveys.
The yacht offers six large staterooms with two true master bedrooms, high ceilings and huge exterior deck space, an elevator, and beach club.
6. Angelus: a legendary Sunseeker yacht with an ultra-modern design
131 ft.
Approx. $22,077,479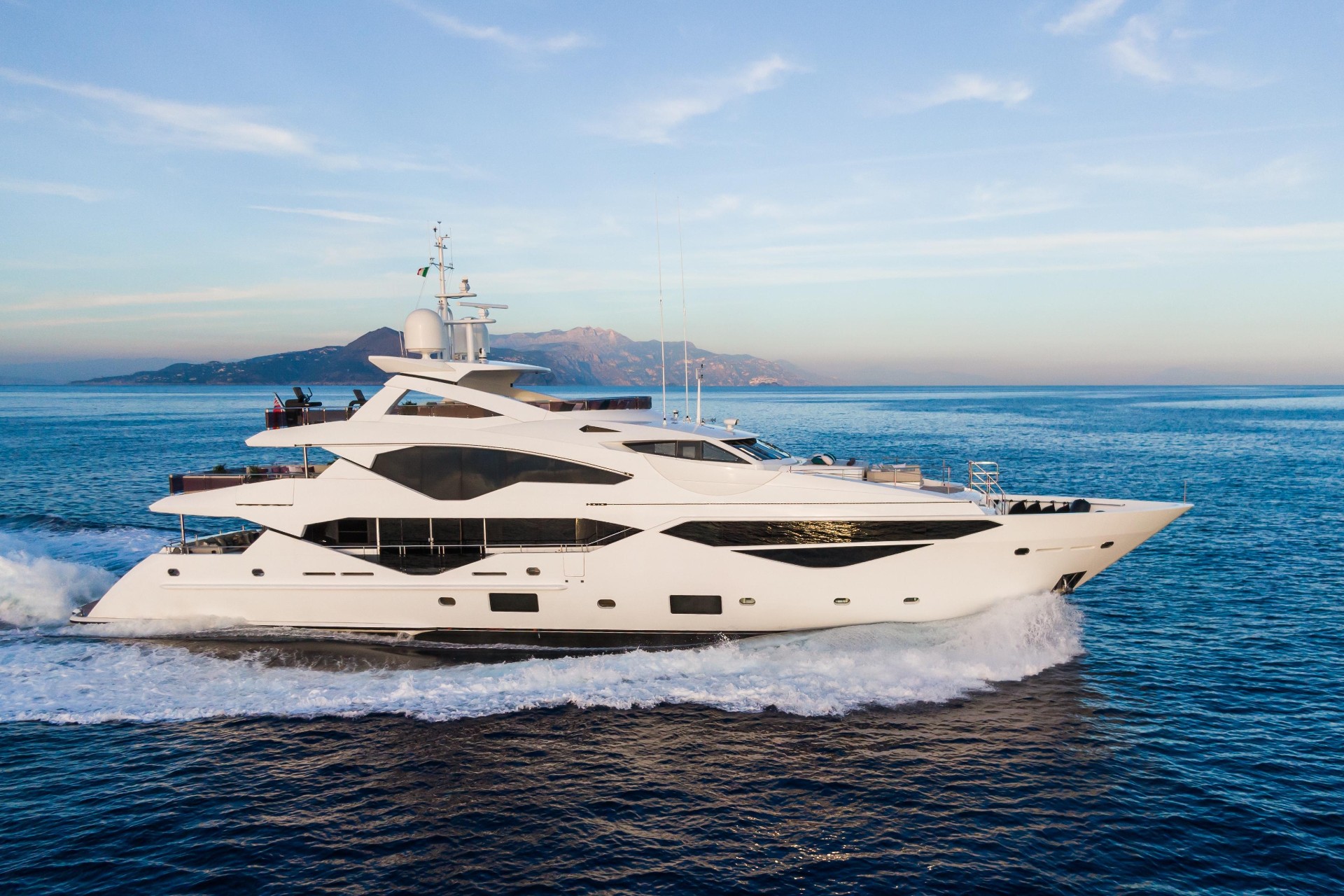 This tri-deck 131 epitomizes everything that is Sunseeker. Expertly finished using ultra-modern materials and techniques, the boat is one of the finest examples of modern day superyacht building. The main deck features a lounge, separate dining area, and full galley. On the upper deck, you'll find the sky lounge, a cocktail bar, and access to the skydeck where comfort and lavishness reach new levels. As impressive out in open water as it is in the harbor, this icon of design is unlike any other.
The yacht carries a larger tender and 2 full-size jet skis in her garage, plus over 2 million-euros in upgrades and customisation.
7. Viatoris Conrad C133: a winner of the 2019 World Superyacht Award
133 ft.
Approx. $21,610,230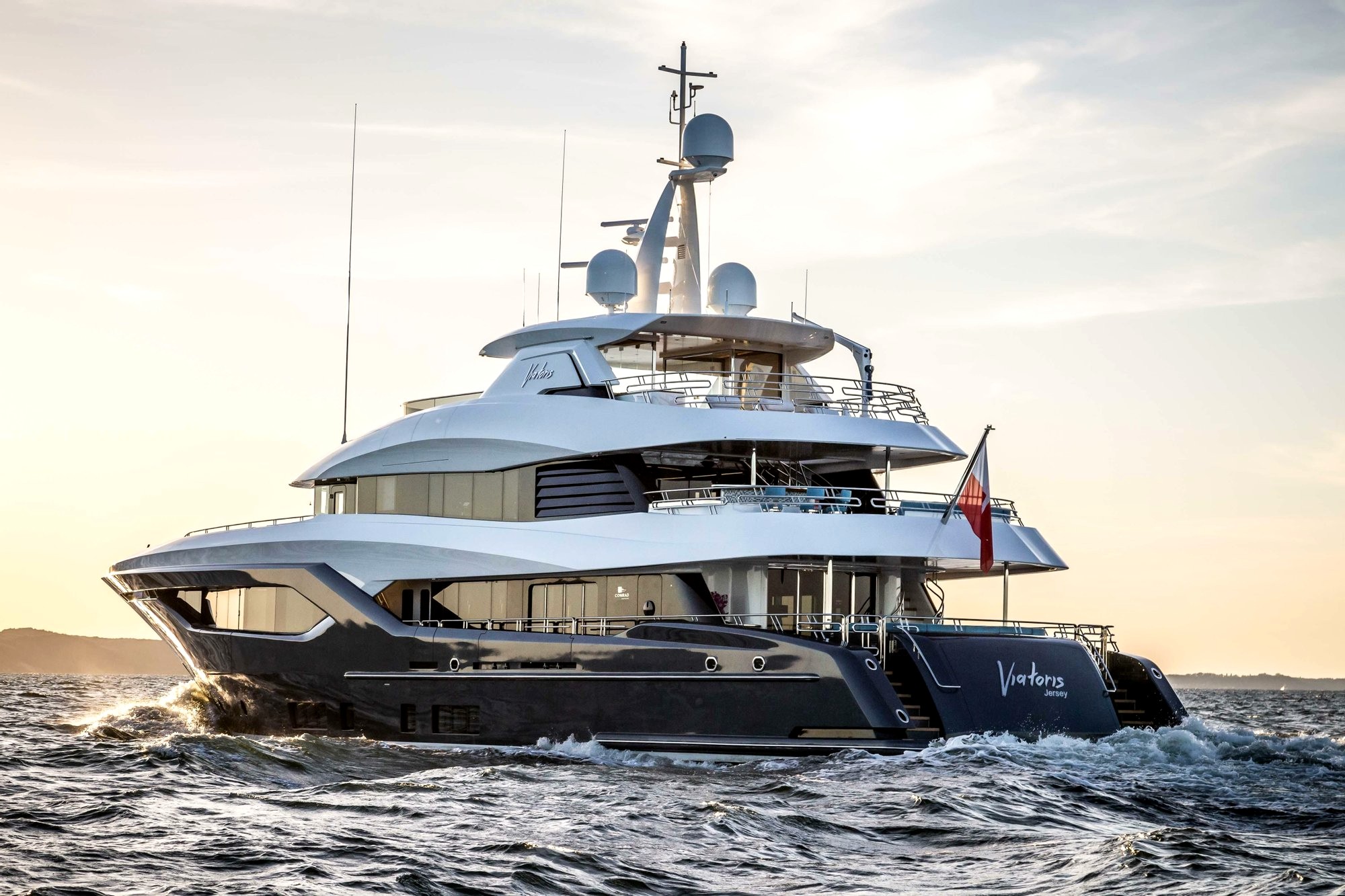 Viatoris launched in spring 2018 and is the flagship of Conrad Shipyard based in Gdansk, Poland. The brief behind Viatoris was to create an elegant yet comfortable interior and extremely livable exterior spaces. The task was perfectly completed by both Reymond Langton who designed the exterior and Diana Yacht Design which was in charge of naval architecture. The yacht's classic yet impressive design won the 2019 World Superyacht Award; the judges "predominantly admired her lines, which were considered to be both timeless and elegant, while her interior layout was praised for its ideal distribution of the yacht's volume between guest, crew, public and technical spaces."
8. Sage: a Riviera-blue Admiral yacht with minimalist interior design
131 ft.
Approx. $17,521,808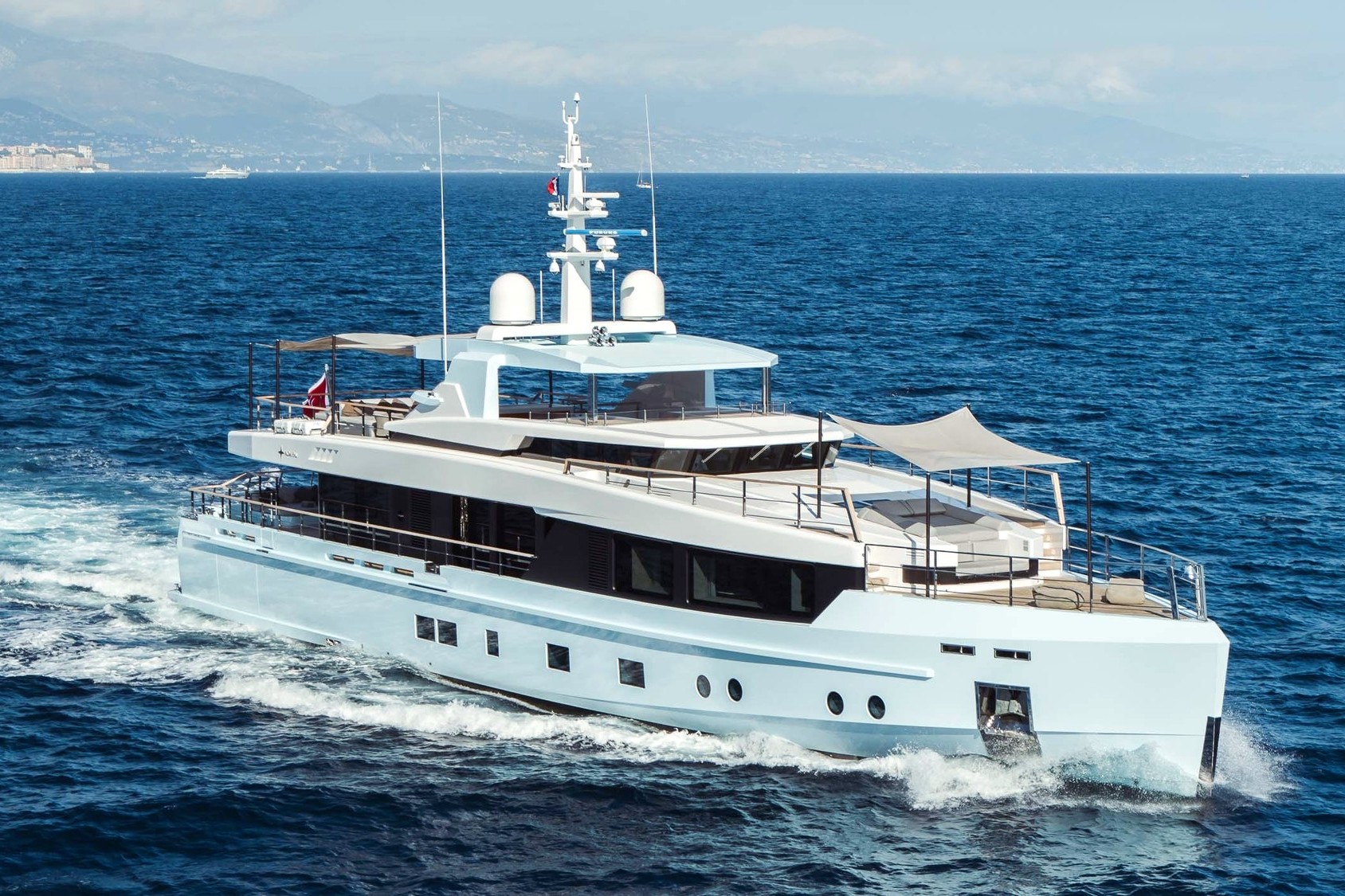 The minimalist interior design by Gian Marco Campanino and exterior features by Admiral were carefully curated by the owner and GMC Design. The yacht's unique, ethereal, blue hull color was inspired by the summertime skies of the Italian Riviera. Her interior combines light colors (beige tones dominate), marble, precious wood, and luxurious wall fabrics with elegant furnishings and smart lighting solutions. The yacht's decks feature spacious lounge areas covered by Mediterranean-style tents.
9. All About U2: the most expensive sailing yacht on the market
164 ft.
Approx. $17,404,996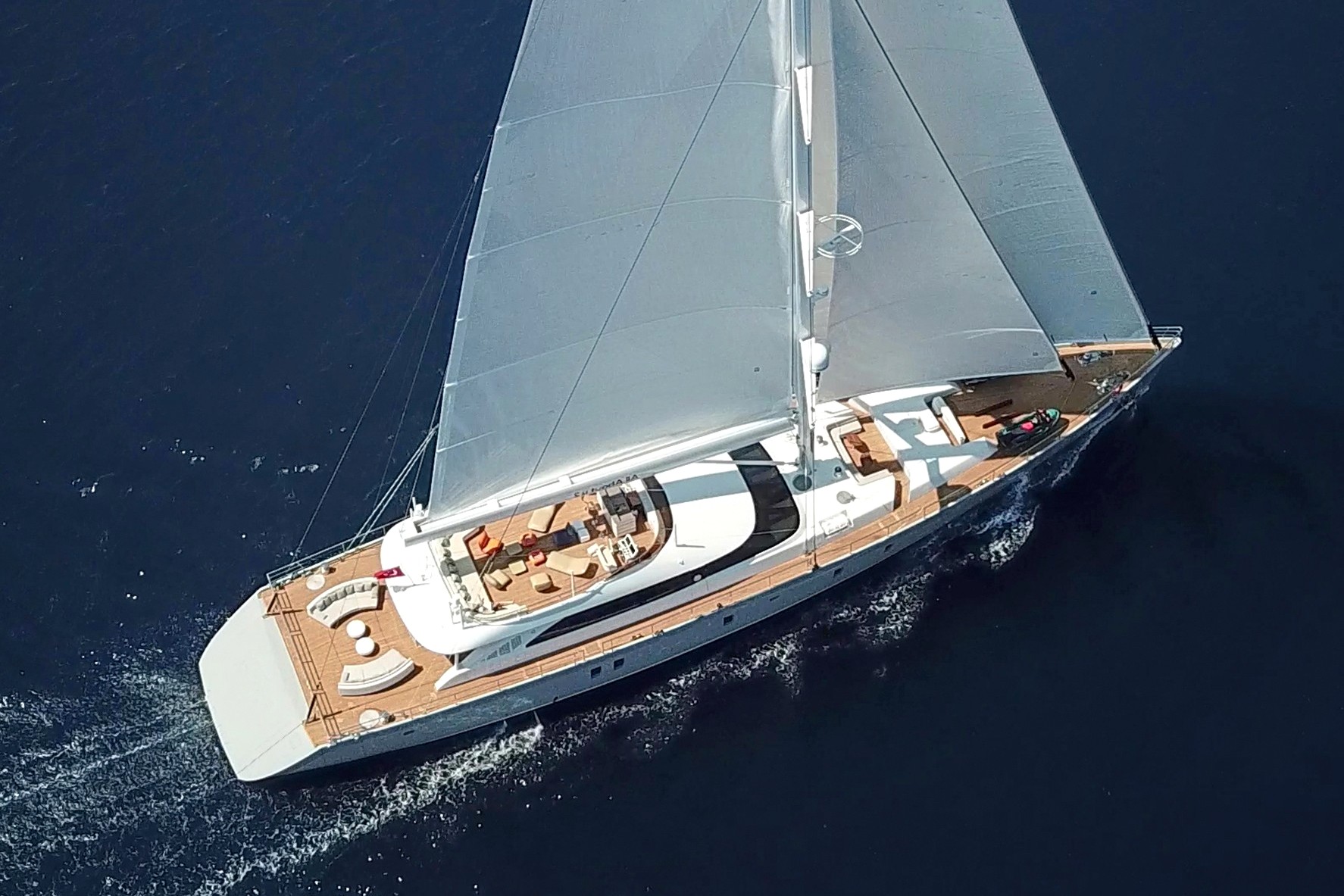 Built by Ada Yacht Works in 2019, this yacht is one of the best investments in the 50-meter sailing yacht category and under 500 GRT on the market. The yacht masterfully mixes sailing romance with a cutting-edge exterior and contemporary interior design. From the glass-walled master salon to its staterooms and numerous lounge areas with their abundance of natural light, it feels more like a modern penthouse than a seagoing vessel.
10. Sunreef 80 Power: the most expensive catamaran on the market
80 ft.
$6,750,000
The new 80 Sunreef Power is a universal, multihull yacht for long cruises in ultimate comfort. One of the most spectacular features on-board the 80 Sunreef Power is the master suite with skylight glazing set up in the bow section of the main deck. The main salon opens onto the ample aft cockpit to combine the yacht's interior dining space with its outdoor relaxation areas. The yacht's full-beam bow terrace offers an amazing amount of space for sunning and lounging; the flybridge houses a spa pool and a wet bar.
With bold, contemporary hull styling, the 80 Sunreef Power incorporates classic stainless steel portlights, teak sole decks, high bulwarks, and subtle ambient lighting. The immense volumes in the hulls of the 80-foot catamaran give plenty of room to tailor every unit's layout to the most specific requirements–and provide sufficient privacy for the crew quarters, as the galley can be accessed directly from the aft cockpit.
P.S. Where to?
The best option for a perfect self-isolation experience on the sea remains the Caribbean. The area houses a few island countries which all carry a low risk level for COVID-19, and borders are open for visitors from nearly all over the world, including the US and Europe. As of November 2020, some of the best of them are St. Lucia, Grenada, Saint Kitts and Nevis, Dominica, Montserrat.
Another possible destination for yacht voyages is Fiji. The country boasts one of the lowest numbers of COVID-19 cases but also has a number of restrictions for foreign travelers including a 14-day quarantine.