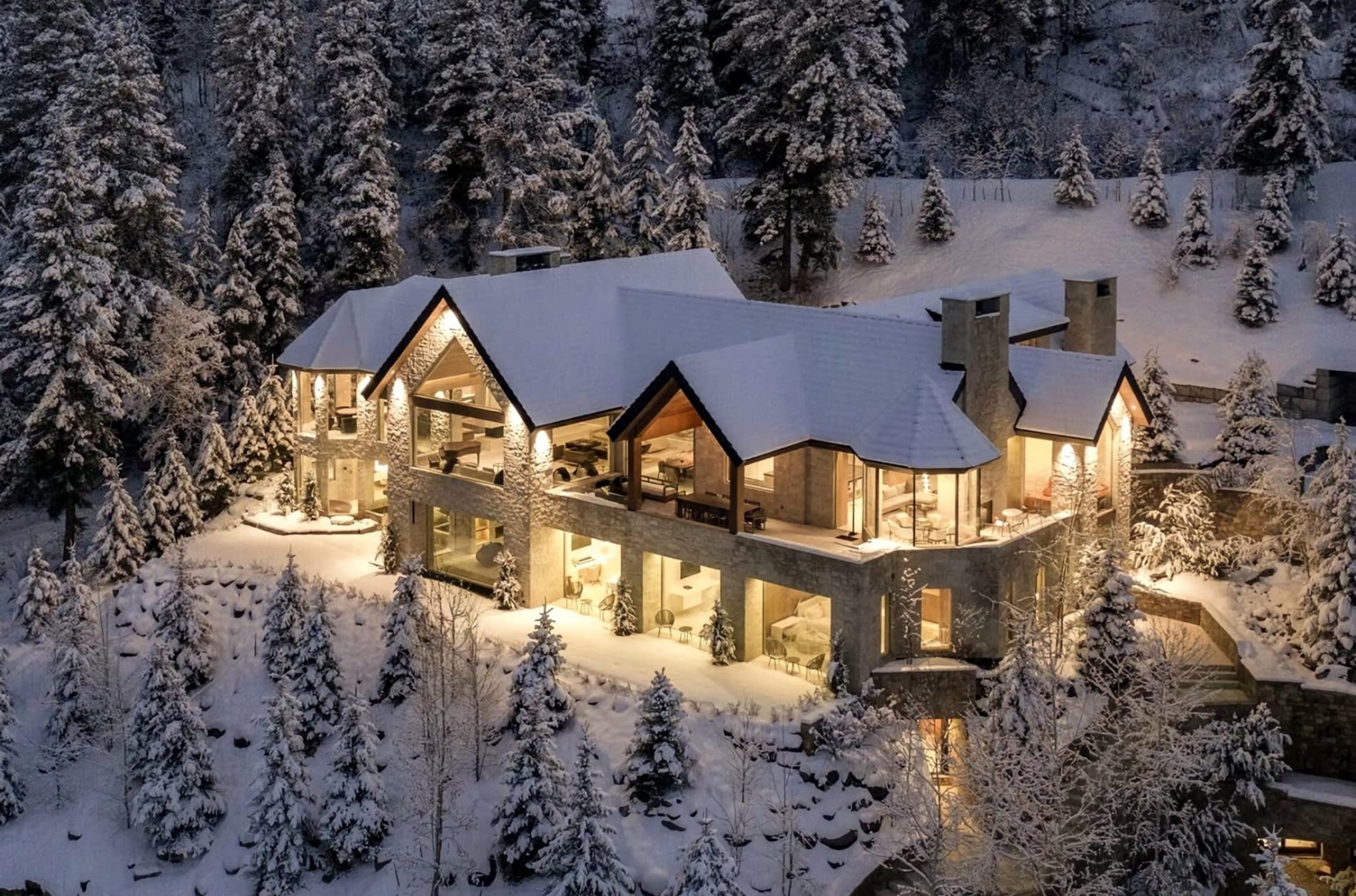 Luxury mountain home in Aspen, Colorado, USA, US$75,000,000, for sale by Mark J. Haldeman & Jennifer Banner (from Haldeman Banner Team) and Tony DiLucia & Nick Lincoln (from DiLucia Lincoln Team), Christie's International Real Estate
Knight Frank reports that HNW individuals and their families are showing increased interest in alpine living, while queries for "mountain view" also consistently rank among the top five criteria in the most popular home-related searches on JamesEdition.
Even for those who do not regard themselves as winter sport aficionados, a leisurely mountain lifestyle with its open landscapes and accompanying recreational activities has become an enticing alternative to urban routines–especially during the current Covid-19 pandemic.
To help you visualize your own perfect mountain setting, we have listed the 20 most sought-after mountain estates in the world's most popular destinations.
Top 5 chalets with mountain views in the Alps: Megeve, Courchevel 1850, Verbier
More than 2,000 homes are currently for sale in the French and Swiss Alps with an average price of US$2,702,268. Megeve, Courchevel and Chamonix head the list of the most viewed (by James' users) Alpine locations in France; Verbier, Gstaad, and Zermatt are trending in Switzerland.
The vast majority of the properties adhere to a classic chalet look, though new chalets can feature larger facade windows and airy double-height interiors. The idyllic landscape of Alpine real estate is enhanced by luxurious penthouses and occasional medieval castles located further away from slopes.
1. Chalet with one of the best mountain views in Megeve, France
Approx. US$8,451,791
This three-story chalet is located in a small hamlet a few minutes from Megeve village center. With one of the most stunning views of Mont Blanc in the neighborhood, it also features a fine, old, wood-inspired interior design refined with Salvatori marbles and Kartell lamps.
2. Spacious family chalet in Courchevel 1850, France
Approx. US$11,500,000
Situated in Courchevel 1850, the highest of the three Courchevel resorts, this 6-bedroom home is a perfect spot for a family vacation. It features a spacious living room with a fireplace, beautiful children's bedrooms in addition to three master suites, and an indoor swimming pool with direct access to a terrace with a hot tub.
3. Penthouse Le Lustre in Chamonix, France
Approx. US$10,411,626
A duplex penthouse located in the historic part of Chamonix, in a beautifully restored building with a mosaic inscription of "1928" on the floors. One of the property's main perks is, of course, a 100 sq. m (320 sq. ft.) south-facing rooftop terrace with 360-degree views of the Mont Blanc mountain landscape. The modern interior design created by leading architect firms from Hong Kong and Chamonix is also noteworthy.
4. Modern chalet with indoor pool in Verbier, Switzerland
P.O.R.
In addition to its exclusive location in the renowned Savoleyres district, this superb, remarkably well-thought-out chalet has many charming amenities, such as a home cinema room, a wellness area with an indoor swimming pool and hammam, and large south-facing terraces.
5. Trois Toits, a classic Alpine chalet nestled on a mountain slope, Verbier, Switzerland
P.O.R.
Nestled in pines, this property can be found on the upper slopes of Verbier–with direct ski-in, ski- out access in the winter–and pleasant golf course views in the summer. The chalet is constructed from natural materials selected by local artisans.
Top 10 luxury mountain homes in the USA: from Aspen and Park City to Jackson and Ketchum
In August 2020, the business aviation research company Wingx reported a 40-90% increase in private jet activity in Colorado–and mentioned that Wyoming, Idaho, and Utah were receiving "lots more visitors than normal." On JamesEdition, real estate listings in these states also saw a 7-14% increase in web traffic in 2020.
The top locations of 2020 are Edwards, Evergreen, Aspen, and Vail in Colorado; Park City, Springville, and Heber in Utah; Jackson in Wyoming; and Ketchum in Idaho.
More than 1,000 homes presently are for sale in Colorado (av. price US$3,529,863); about 650 homes in Utah (av. price US$2,403,927); 230 homes in Wyoming (av. price US$4,508,993); and also 230 homes in Idaho (av. price US$1,965,154).
American alpine real estate enjoys particularly diverse architecture ranging from grand log cabins to contemporary lodge houses and castle-style properties; any house hunter is certain to find an impressive property that meets all desired specifications for comfort and luxury.
6. Luxury mountain homes in Aspen, Colorado
US$46,000,000
1020 Carroll Drive, located in the private development of Starwood is one of the finest Aspen estates that enjoys cul-de-sac privacy and top of the world Elk Mountain views. The main house was designed in an arts-and-crafts style on a Rocky Mountain scale. The estate also includes a guest house and two ponds on site.
7. Modern estate in Edwards, Colorado
US$8,195,000
Situated in the gated community of Pilgrim Downs, this 300+ acre (120+ Ha) alpine neighborhood is parceled into 24 homesites surrounding a 70-acre rolling meadow within the White River National Forest. Nestled above the meadow in a thick stand of quivering aspen, 476 Pilgrim Drive is a modern estate originally owned by WWII 10th Mountain Division veteran and Vail legend, Sandy Treat Sr. The home underwent a comprehensive renovation completed in 2018.
8. Luxury mountain home in Evergreen, Colorado
US$6,995,000
Combining modern architectural details and lightning with traditional elements, such as heavy stone decoration or wood beams supported vaulted ceilings, the home is a majestic chalet. Picture windows display mountain vistas with impressive rock outcroppings as well as cascading fountains and ponds designed in front of the house.
9. Chalet with signature mountain views in Vail, Colorado
US$32,000,000
Located close to ski resorts in a pristine spot with views of Gore Range and the Vail Golf Course, the home features refined interiors with an extravagant mix of modern materials. The thoughtful floor plan maximizes indoor and outdoor living.
10. Contemporary property in Telluride, Colorado
US$24,000,000
Masterfully designed by Poss Architecture, this home perches on a pinnacle with thrilling views of Telluride's most dramatic peaks. The architectural project was inspired by the surrounding ridgelines and sprawling mesas; as a result, the property effortlessly frames the iconic Wilson Peak from almost every window. Natural elements draw the dramatic steel structure into the landscape; floor-to-ceiling glass displays boundless views panning from east to west, showcasing Telluride's box canyon and the slopes of Telluride Ski Resort.
11. Rustic chic in Deer Valley, Park City, Utah
US$15,500,000
Reportedly the most private setting in Deer Valley. Provides a tranquil country lifestyle, surrounded by wildlife and awe-inspiring water and mountain views, yet minutes from Park City shopping and fine dining. Originally Mitt Romney's 2002 Olympics estate and designed by renowned architect Fred Babcock, every detail is unique and hand-made, from the carved log details to one-of-a-kind lighting fixtures, sculptures, and custom cabinetry.
12. Exceptional ski-In, ski-out Deer Valley estate, Heber City, Utah
US$12,500,000
This contemporary Michael Upwall-designed, slope-side estate is located on Deer Valley's Jordanelle Run. The house provides plenty of areas to retreat after a day of skiing: a private view-oriented patio with a fireplace and firepits, a game room, or multi-seat theater. The lower level offers slopeside access.
13. Architectural masterpiece in Park City, Utah
US$10,950,000
Designed by Jean-Yves Lacroix, this estate captures nature in its purest form: oversized glass window sliders open up to picturesque valley and ski run views while expansive private decks with heated concrete floors throughout help to create seamless indoor-outdoor living. The 3-acre private yard serves as a natural corridor for roaming elk, deer, and moose. Among other features, the house boasts numerous gathering areas including a chef's kitchen, home theater, and an infinity hot tub.
14. Amangani Villa with open-air hot tub in Jackson, Wyoming
US$8,750,000
Contemporary mountain home located within the Amangani Resort in Jackson Hole offering sweeping views of the ranch lands below and the majestic Snake River Mountain Range. Every bedroom opens onto the terrace. The 1,500 sq. ft. (140 sq. m) patio space complete with a fire pit and a hot tub makes this property a perfect mountain retreat.
15. Elegant Sun Valley estate, Ketchum, Idaho
US$19,500,000
Situated on almost 12 acres (1 Ha) of groomed, open land, this stately estate is the epitome of gracious Sun Valley living. The interior design, fine European craftsmanship, and natural materials seamlessly meld formal elegance with the grandeur of a classic lodge aesthetic.
Top 5 luxury mountain homes in Canada: Whistler or Mont Tremblant?
Whistler and Mont-Tremblant are among Canada's most popular locations on JamesEdition, after Toronto and West Vancouver. We have about 50 homes for sale in Whistler (av. price US$3,495,727) and around 100 homes in Mont-Tremblant (av. price US$1,583,389). Whistler's real estate portfolio consists mostly of modern and classic-style log cabins, while Mont-Tremblant house hunters also will no doubt be delighted to find a number of Tudor-style mansions and contemporary houses on the current market.
16. 4673 Blackcomb Way in Whistler, British Columbia
US$10,940,024
Stunning property tucked away in an exclusive private setting–yet only a short walk from Lost Lake and vibrant Whistler Village. Après-ski options include relaxing in an outdoor hot tub or cozying up around a gas fire pit surrounded by a spruce forest.
17. Antara, modern ski-in, ski-out property in Whistler, British Columbia
US$9,374,012
Antara offers unbelievable ski-in, ski-out access to Whistler mountain with the ski run located right outside the back door. What's more, it's a splendid concrete and steel estate that offers 7,375 sq. ft. (685 sq. m) of awe-inspiring interior space with a home theater, an east-facing gym with floor-to-ceiling windows, and a vast climate-controlled wine cellar. An open concept kitchen features Wolf & Sub-Zero appliances, marble and Caesarstone counters, and a raised bar with island seating.
18. 2919 Ancient Cedars Lane in Whistler, British Columbia
US$12,595,837
Yet another ski-in, ski-out estate located on the slopes of Whistler Mountain. This one is on a private 35,937 sq. ft. (3,338 sq. m) park-like setting, with fantastic views over a private forest. The home's modern interior design catches the eye with its obviously luxurious materials, furnishing, and lightning solutions.
19. A Flanc de Montagne in Mont-Tremblant, Quebec
US$6,892,656
A monumental residence overlooking Lac Tremblant within a gated community at the most prestigious mountainside address in the region: the ski resort of Mont-Tremblant. The property has every anticipated mountaintop chalet amenity: from an outside pool and indoor recreational areas to privileged access to the lake.
20. Modern mountain lodge in Mont-Tremblant, Quebec
US$4,470,380
This slopeside home on Mont-Tremblant's Versant Soleil enjoys direct ski-in, ski-out access and spectacular vistas over the Mont-Tremblant and Laurentian mountain range. The property's architecture creates timeless appeal executed with the highest quality materials; the spacious and lofty living spaces open up to unspoiled panoramic views as far as the eye can see.